Established in 2011
The Auckland Park Academy of Excellence (APAX) was established in 2011. Nestled in the beauty of the suburb of Auckland Park, Johannesburg; APAX was established to meet and exceed the holistic education requirements of Auckland Park and its surrounding communities.
The school subscribes to an Islamic ethos and thus provides both secular and Islamic education. From humble beginnings, housed at 74 Richmond Avenue, with a roll count of 39 learners (at the beginning of 2011), we have grown and are currently spread across 4 campuses, the school now caters for learners from Grade 1-12.
[rev_slider alias="slider-2"][/rev_slider]
FACING CHALLENGES
We, the Auckland Park Academy of Excellence recognise that our society faces new challenges due to its growth and advancement. These challenges arise almost on a daily basis which must be met with solutions that allow us to develop as a civilisation. We are mindful of our duty and aware that ultimate success lies only in the pleasure of our Creator. We acknowledge that strong individuals contribute to stable families, who in turn make up strong communities that form the very fabric of society. It is further noted that the development of individuals must start at the earliest possible stage of their lives. It is in this light that we believe that values, morals, honour, integrity and leadership must be built from the time that learners enter our school
What the APAX emblem symbolizes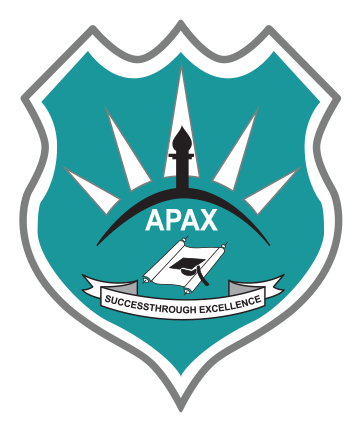 01.
The shield represents the protection of Islam and education.
02.
The crescent can be read as a dome or a moon, both symbolising Islam. It can also be seen as a horizon, symbolising the dawn of a new beginning.
03.
The minaret on a crescent symbolises Islamic philosophy and principles which are taught at the school.
04.
The scroll and graduation hat denotes secular education also taught at the school.
05.
The rays of the sun represents the enlightenment of our learners with knowledge, both Islamic and secular, and encourages them to reflect this in every sphere of their lives.
06.
There are 5 rays in the emblem representing the 5 pillars of Islam as well as the 5 principal components of our school – Islam, learners, parents, teachers, governing committee.
07.
The colour turquoise symbolises nature, the preservation/conservation of which we will endeavour to uphold.
Foundation Phase
The curriculum at the Auckland Park Academy of Excellence is based on the CAPS curriculum (Curriculum Assessment Policy Statements).
During the first phase the school creates an environment that is ideal for the development of the basic skills in the key learning areas that form the foundations of learning.
A strong emphasis is placed on skills that will be needed in their future education. This includes Languages (English/Afrikaans), Mathematics and Life Skills.
Independent thought is encouraged and learners are extended through a range of activities that cater for the needs of different learning styles.
Intermediate Phase
In the second phase, the Foundation phase focus is on the acquiring of knowledge, values, attitudes and skills. Learner education is hands on and holistic. Our educators believe firmly in working at the pace of the class whilst encouraging critical and creative thinking.
The five key learning areas are:
Languages
English [Home Language]
Afrikaans [First Additional Language]
Mathematics
Natural Science
Social Sciences
Life Orientation / Physical Education
Senior Phase
The following subjects are offered in the Senior Phase:
English (H/L)
Afrikaans( FAL)
Mathematics
Natural Sciences
Technology
Social Sciences
Economic and Management Sciences
Life Orientation
Subject Choices
In order to make the correct subject choices, learners need to know what career path they intend to pursue after completion of grade 12. Click here for a useful presentation prepared by the University of the Witwatersrand.
FET Phase
The following subject choice groups are available for study in the FET Phase:
Group A
English
Afrikaans
Life Orientation
Mathematics
Business Studies
Physical Science
Life Sciences
Group B
English
Afrikaans
Life Orientation
Mathematics
Business Studies
Physical Science
Accountancy
Group C
English
Afrikaans
Life Orientation
Mathematics
Business Studies
History
Life Sciences
Group D
English
Afrikaans
Life Orientation
Mathematics
Business Studies
History
Accountancy
Islamic Curriculum
The Islamic curriculum at APAX is integrated into the school day with a full range of islamiat subjects, the core of which is prescribed by the Jamiatul Ulama SA (Fordsburg).
The Islamiat subjects are:
Quraan
Hifz
Duas
Arabic
Hadeeth
Islamic History
Aqaaid
Fiqh
Akhlaaq
Hifz Program
APAX offers learners the opportunity to memorise the Holy Quraan under the guidance of a dedicated Hifz educator. Classes are integrated into the school programme and continues after school until 16h40.
Educators
Our educators at APAX have been carefully selected for their expertise and qualifications in their relevant fields of expertise. They are individuals who are passionate about creating an active environment in which every child is given an opportunity to realise their potential. Need to contact one of our educators? Please click on the Contact Page to be referred to all contact information.
Tours and Excursions
Excursions have educational value, and are considered to be an important feature in the school's wider extra-curricular programme. Sports tours motivate players and stimulate improvement in our sport. Cultural tours enrich the curricular programme. Both types of tours have valuable social benefits and promote school spirit.
Sports at APAX
At APAX we believe that through sports many positive opportunities will be created for our learners. Sports participation will also enhance our learner's school accomplishments. Sports teaches our children to function in a competitive society. We thus provide a programme that we feel will help create a balanced individual. Our sports programme has two components: our internal programme and our extra cost programme.